AYURVEDA

TREATMENT IN RISHIKESH - INDIA

In Mantra Yoga Meditation School we work closely with our clients to find unique solutions to their problems.
Based on thorough research, we have developed particular protocols to handle chronic conditions and to maintain health in day-to-day stressful life situations. These include modern equipment and oils to ensure quality and consistency in treatments. We tackle individual issues with a variety of different treatments that vary from person to person, so you will be able to overcome your unique obstacles, and know your body types to live the best of your life.
We offer Ayurveda Massage Therapies in Rishikesh (India) and Canada. If you want to know more about it, please email us at namaskar@mantrayogameditation.org
Other courses and services in Rishikesh: 1 or 2 week Panchkarma Detox program, Sound Healing Therapy, and Shatkarma & Pranayama Training. In case you are interested in any of these courses and services, please get in touch through email: namaskar@mantrayogameditation.org
We also run a wide range of courses and services in Kelowna, Canada: private or group Mindfulness Meditation, Vedic Meditation Class, Ayurveda Massage Therapy and Sound Healing. For more information, click here or email us at namaskar@mantrayogameditation.org
–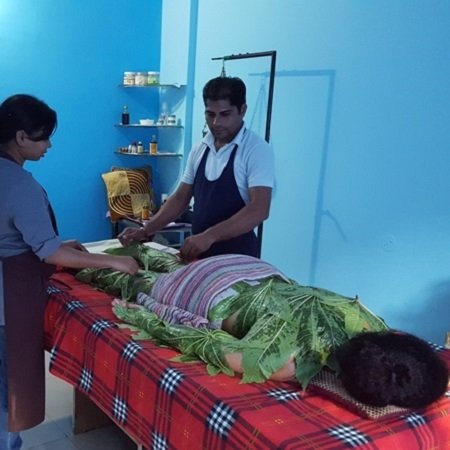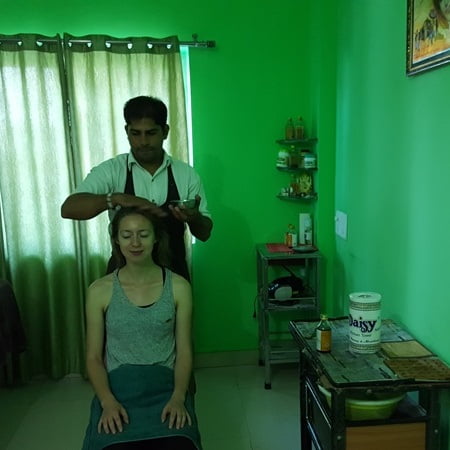 AYURVEDIC

TREATMENTS AT MANTRA YOGA MEDIATION SCHOOL

Contact us for a free consultation
namaskar@mantrayogameditation.org
mantrayogmeditation@gmail.com
+ 1 7785817945
+91-9958672399
Village Ghugtayni Road, Upper Tapovan,
Rishikesh, Uttrakhand 249192 India.
6562, Renfrew Road,
BC V0H1X7 Canada.
MEET

OUR TEAM - AYURVEDA TREATMENT CENTRE IN RISHIKESH

You can rest in the knowledge that you are leaving your health in the very capable hands of our professional team.
Mr Ojas Garg – Health Consultant and Life Coach.
He was born in traditional Ayurveda family. His father Dr Ram Garg is an international renowned Ayurveda physician. He completed B Com and B Sc naturopathy from Delhi University and also obtained diploma in Panchakarma from Kerala. He is also a visiting Panchakarma consultant to Dr Ram Ayurveda in Johannesburg South Africa. Presently he is managing Rishikesh center and also consulting

Dr Sachin Dua – Ayurvedic physician
He was born in traditional Ayurveda family going back to centuries ago to Vaidya Ramasra Mal of Lahore tradition. He is equipped with the ancient knowledge of the healing properties of the trees and plants, that has been closely protected and guarded, and that has been passed on from generation to generation for thousands of years in his family. He completed his Ayurvedic Degree – Ayurvedacharya (BAMS) from M D University, India. This was followed by a Post Graduate Degree in Alternate Healing and a Diploma in Panchakarma. Integrating ancient wisdom of Ayurveda with current system, and drawing on a variety of techniques.
Mr Sohan Singh – Ayurvedic Therapist
Mr Singh is an Ayurvedic therapist and has a Masters in Panchakarma medicine. He has graduated from one of the most prestigious schools of Ayurveda. He is an expert in the Ayurvedic Panchakarma procedures, with over 14 years of background on the field. He is also an expert in the preparation of herbal medicines used especially for Panchakarma treatment. He prepares the herbal mixtures for Panchakarma procedure according to your personal Dosha.
Mrs Savi Mehta – Ayurvedic Therapist
Mrs Mehta has experience of 10 years in Panchakarma department. She worked for many renowned Ayurvedic institutions in Delhi and Rishikesh. She is a certified Ayurvedic Panchakarma therapist. She is a specialist of conducting Panchakarma procedure for patients with chronic conditions.
A

INTRODUCTION TO AYURVEDA

Discover the foundations of the Indian ancient system of medicine.
Ayurveda – What is it?
Ayurveda is one of the oldest forms of natural healing in the world, with a history that stretches back thousands of years. Like many ancient techniques, it was developed in India, and operates on the principle that one's well-being is dependent on a balance being achieved between mind, body, and spirit.
Ayurveda teaches that there are many things which can cause an imbalance in oneself, and these imbalances need to be corrected in order to connect properly with the universe as a whole and attain happiness and wellbeing. These imbalances can be caused by anything, from inherent aspects of oneself, to negative emotions, to the stresses of daily life.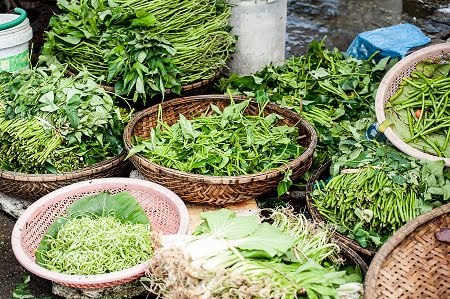 Ayurveda operates on the principle that one's well-being is dependent on a balance being achieved between mind, body, and spirit.
Our organism required rest and healthy food to be released from the accumulation of poisons multiplied with new goods of the pharmaceutical industry in poured deeper and deeper into the organism. Aches in spine and back, migraine and joint aches and pains developed. Breathing became difficult and the heart started to hurt, during activities such as; climbing a staircase. Even these old medicines were not decreasing the blood pressure anymore. It's worth asking a question to our self. Probably, we would not have to spend a lot of money and time on our treatment and our life would become filled with more happy days. But if toxins and poisons already invade our organism and damage it and by trying a few diagnoses and medicines that did not bring the results as expected, we then need help our organism as it cannot cope by itself. All further attempts to eliminate symptoms will make such a crises even worse.
Yoga and Ayurveda
Yoga and Ayurveda are two branches of the Vedic knowledge, and so interrelated, but with different roles in the Vedic System. In this classical Vedic scheme, Ayurveda is the Vedic system developed specifically for healing purposes. There is no other Vedic system of healing apart from Ayurveda. Yoga is the Vedic system of spiritual practice or sadhana. All Vedic sadhana or spiritual practice involves some form of Yoga practice.
Ayurveda – Diagnose
Determining an accurate diagnosis revealing not only the damaged system or organ, but also the reason for this damage is the way to recovery. The level of metabolic disorder is definitely required. The person's constitution could be in the course of years in such a poisoned state and the result of it: a headache, depression, insomnia, panic syndrome.
Modern medical science is only now beginning to recognize what the sages and mystics have always known; that the mind and body are not separate entities but deeply related. The mind can affect the condition of the body, just as the condition of the body can affect the mind.
Animals wounded in the wild or stricken by disease possess a remarkable ability to treat their ailments, but most, unfortunately, we have forgotten this force of self-healing. Besides this as per Ayurveda, man is an experiment – an experiment of existence to reach to the heights of consciousness and to reach to the depths of the very sources of life. A man should be understood only in this way. You are not born complete. All other animals are born completely; a dog is born a dog and will die a dog, however, man can be born a man and can die as a Buddha, Jesus or a Prophet. Between birth and death, no other animal evolves, except man. We are here to evolve and Ayurveda has provided many techniques to be and remain healthy.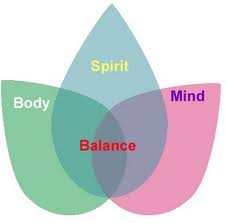 In the context of health, our body is an "organization" established in a balance between the natural forces of creation and destruction. When the balance is disrupted, our normal rhythms and health are disturbed and we either over-create or over-destroy. This gives rise to the development of toxins – which cause disease and ill-health because they are not in harmony with the cosmic organization.
If the disease is left unattended to during the initial stages the toxins multiply and challenge the existence of the physical 'organization'. The energy and activity of the body are directed to nourish the toxins and gradually the whole being become out of tune with cosmic harmony. This is a description of a major disease.
Incorrect food and lifestyle patterns including, exposure to contaminated foods, sensitive foods & dirty foods lead to Dosha Imbalance and block the energy channels which blocks mental morbid factors. Therefore a person experience reduced concentration, poor-resistance to infection, and fatigue symptoms. In this situation, the mind has acquired low energy and morbid factors have been engrossed in the body and mind. Besides this, confusions/irregularities upset the Prana conscious networking and create immunity disorders. Because of these disorders, the disease is manifested.