4. 100 Hour Yoga Teacher Training India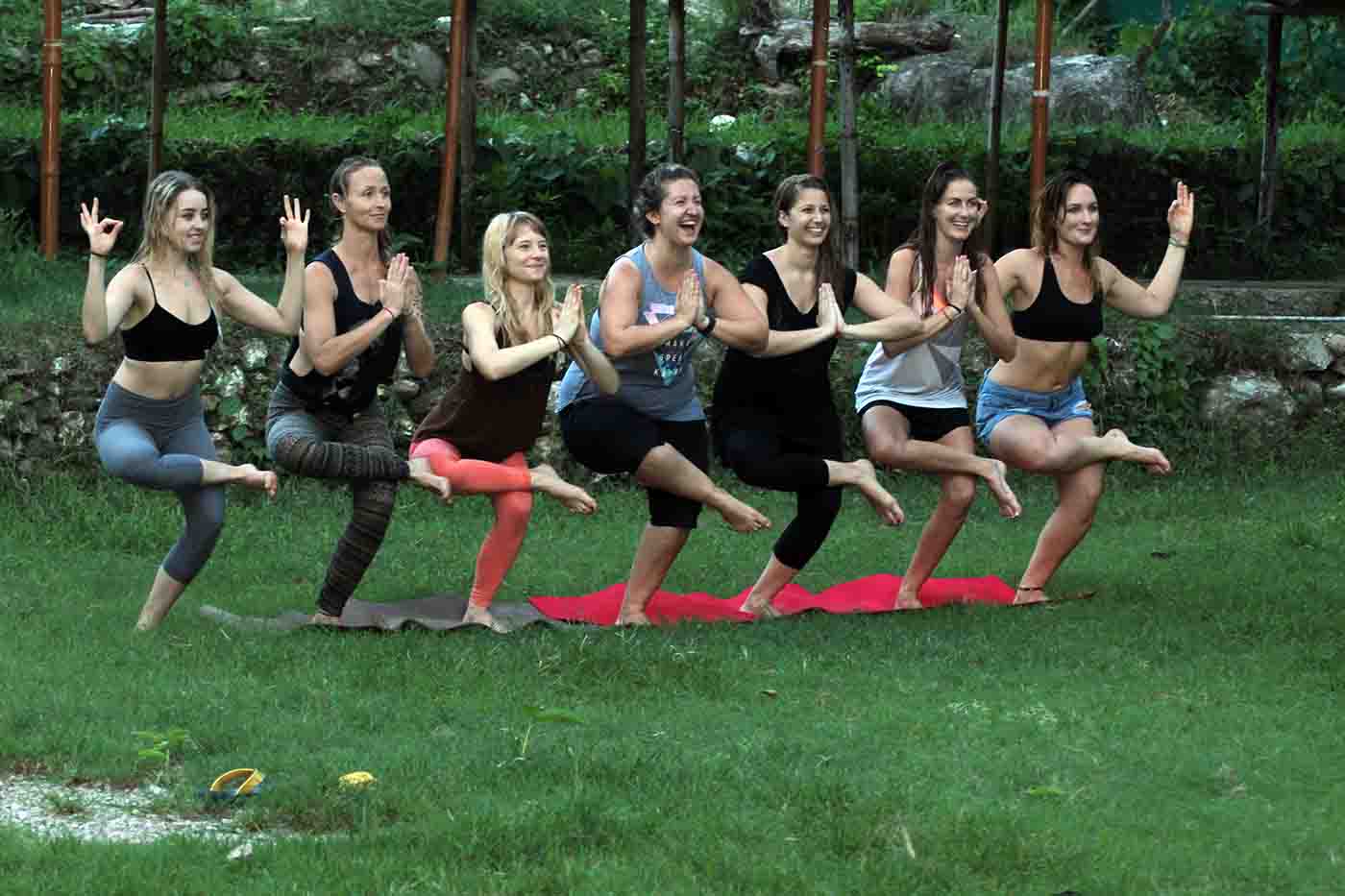 100 Hour Yoga Teacher Training in India
Start your two weeks yoga emersion, 14 Days – 100 Hour Yoga Teacher Training In India – Yoga For Beginners and Intermediate Level.Ashtanga Vinyasa flow Yoga Ashram inexpensive teacher training in India
Our 100 Hour (14 days) yoga Teacher Training course in India is made by our most promising yoga gurus to prepare students for the best to begin and to become an Ashtanga (Mysore & Led style) and Vinyasa flow certified yoga teacher to spread their best yoga teaching skills in the world .
Mantra yoga school created the best 100 Hour (14 days) yoga teacher training course in India at Rishikesh, Goa & Dharamsala for the travellers across the globe. With an option to choose within 3 locations as per their suitability to join our short term two weeks, yoga course for Beginners program.Where Yoga students can experience ,excel and explore the field of Indian Vedic wisdom life science Yoga, Ayurveda, Pranayama, Naturopathy,Meditation, Sadhana, spirituality to attune with a modern concept of Health, Beauty, wellness & fitness.
100 Hour yoga teacher training in India program includes Daily 3 Hours of ashtanga and vinyasa yoga teacher training classes ,Yoga philosophy classes, Yoga anatomy and physiology, Yoga group discussions.
Mantra Yoga school equips you with 200 hour International certification approved by Yoga Alliance,USA. Our Rishikesh teacher training approach is spiritual cum non-religious. *Budget ashram stay in a Single Private Room, 3 Vegetarian meals and 2 local excursions. It is an opportunity for those who has less time for vacation can participate in the part course program and complete the second half of our 200 Hour yoga teacher training course within 3 years and updated Fee will be charged to get enrolled.
A 100 Hour Yoga Teacher Training in India | Course Fees 2018 , US$800 – Location Rishikesh|A Non-refundable Initial enrolment fee – $175. To be paid (Online) Balance course fees $625 "
Yoga aspirants will learn the most powerful yoga teaching techniques and the best way to motivate yourself and others by using them appropriately.
SKILL LEVEL
Beginner
Intermediate
YOGA STYLES
Vinyasa
Ashtanga
Bhakti
100 Hours yoga Teacher Training India with instruction in English
Spoken languages:
English
The maximum participants in the group is 15
Hide all
Accommodation
You will be accommodated at Mantra Yoga & Meditation School located in Rishikesh, Goa, Dharamsala, India.
Mantra Yoga & Meditation Yoga Teacher Training in India Program
Where you start your day ??
This yoga teacher training school is situated in the beautiful foothills of the Tapovan, Laxman Jhoola area, in Rishikesh India. It is completely surrounded by breathtaking mountains. The environment is lush and green, and there is a small waterfall nearby too. You'll wake up to the sounds of nature, with birds calling you to start your day of yoga.
The yoga teacher training school is just a short walking distance away from Laxman Jhoola, and the banks of the "Mother River" Ganges. Away from the hustle and bustle of the city, and nestled in the greenery and silence of nature, you will be able to gain a deeper understanding of your own inner self, and take positive steps forward on your spiritual journey.
Location and Venues:
You can choose any of your preferred Location to begin our ashtanga vinyasa yoga teacher training in India . For detailed information of our 200 hour yoga teacher training course in different locations Follow the link below .
Rishikesh – 200 Hour 28 Days Ashtanga Vinyasa flow Yoga Teacher Training Course
Goa – 200 Hour 24 Days Ashtanga Vinyasa flow Yoga Teacher Training Course
Dharamshala – 200 Hour 24 Days Ashtanga Vinyasa flow Yoga Teacher Training Course
Who has completed 100 Hour yoga teacher training India with our yoga school and want to participate in 200 Hour yoga teacher training international certification by Yoga Alliance USA can join in any of our location in India.
Loose yourself in ambiance and atmosphere
Unique features
ACTIVITIES
Massage
Rock climbing
GENERAL
Dining area
SERVICES
Free Wi-Fi
Library
Local market
Tour assistance
Food
THE FOLLOWING MEALS ARE INCLUDED:
Breakfast
Lunch
Dinner
THE FOLLOWING DIETARY REQUIREMENT(S) ARE SERVED AND/OR CATERED FOR:
Vegetarian
If you have special dietary requirements it's a good idea to communicate it to the organiser when making a reservation
Things to do (optional)
Explore Ganga Aarti at Ram Jhoola
Tour to Neer Waterfall or Vashistha Cave
Visit Kunjapuri Temple in Himalayas
What's included
13 nights' accommodation
Daily yoga course
Four vedas classes
Pranayama sessions
Shatkarma (cleansing process)
Six Darshan Shastras classes
Yoga anatomy and physiology classes
Yoga group discussions
Yoga philosophy classes
Cancellation Policy
The deposit is non-refundable, if the booking is cancelled.
The rest of the payment should be paid 1 days before arrival.
Our center has a deep appreciation of Rishikesh as an ideal location for retreat & teacher training and encourages students who would like to explore the benefits of living and breathing in a spiritual community to join us for a future training. Our beginner basic level 1 –certification course. 14 Days residential 100-hour yoga teacher training & 200 Hours yoga teacher training, tours & retreats are presently conducted in the best touristic locations of foothills of the Himalayas, Pilgrim city of Rishikesh, Dharamshala, Manali, Goa in India & Himalayan village of Pokhara Nepal. Rishikesh training is conducted a round the year. Goa and Dharamsala are seasonal yoga teacher training.We believe that You will experience different customs and contrasting belief systems if you come to India. Things will happen in a way that you may feel is not 'normal' and you will find a quite different mentality, which for many is refreshing & Re-Treating yourself.
01st to 14th of each months. Email us for exact Dates. First 12 Days of 200 hr Training.
Refer our 200 hour Yoga for Beginner & intermediate teacher training page as per your selected location for course curriculum, dates and certification program.