3. Yoga Meditation Spiritual Retreat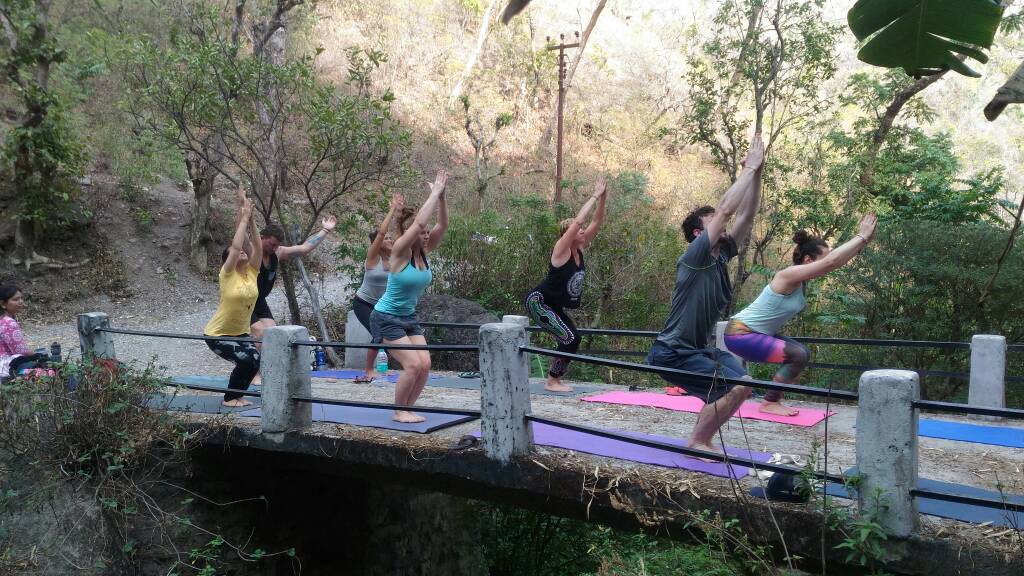 Yoga Meditation Retreat in Dharamsala
Yoga & Guided Meditation Spiritual Retreat and 200 Hour Yoga Meditation Teacher Training in Himalaya in Dharamsala India
Our 11 Nights 12 Days Yoga Retreat in Dharamsala is special Sense Balancing Himalayan Re-Treat which is a part program of our 25 Days Yoga Meditation teacher training Certification Course. At Mantra Yoga & Meditation Retreats in Dharamsala. you will be participating to an Immersion into Embodied Trauma Release Techniques & Mindfulness Awareness practice of Yoga and Meditation, Buddhism & Beyond, through Moving & Seated Meditations, Yin, Yang & Restorative Asana, Yog Nidra, Buddhist Psychology, Relational Awareness Practices, Breathwork & visits to local sightseeing.
Learn how to balance the senses with Mantra Yoga Retreat in India
We encounter the world through our senses. Simply put, we rely on our senses to, for instance, the touch of the chair against our bottom tells us that it is safe to sit down! In addition to these functional attributes, our senses are vital for our mental, emotional and spiritual well-being. In India, it is believed that the senses are united with the universe. They are seen as the gates to all that happens and the open windows of our whole beings.
Watch the Video below Know more about Effects and Benefits of Mantra Chanting – #Om
It is a well-known fact that every molecule, every atom of the universe, is in constant vibration, vibrating on its own frequency and wavelength. The vibrations of sound, color, smell, taste, heat, and light enter our bodies constantly through all our senses. We can, therefore, use Mantra Chanting, Meditation with Yogic Asana, Pranayama, Shatkarma, and to enhance our total well-being and help the body restore the balance of mind, body, and spirit.
YOGA VACATION RETREAT DHARAMSALA – HIGHLIGHTS :
#A stays for11 nights and 12 days in our beautiful lodges with an amazing view of mountains.
#2 Daily Yoga Classes – Which covers, Standing asanas, Sitting asanas, Inversions, backbends, forward bends, Deep hips openers and #Restorative yoga postures.
#Daily Pranayama & Meditation Session
#Yoga Meditation Philosophy and Sat sang on lifestyle topics.
#3 meals except for Sundays
#Visiting Dalai Lama temple (Tsuglag Khang)
#Tour to the waterfall
#Trekking tour to Triund
#Complimentary pick up from the airport.
Dates – Please refer our 200 hour Yoga Meditation Teacher Training Dharamsala Course Page. Click Here: https://mantrayogameditation.org/yoga-meditation-teacher-training-course-india/
200 Hour Yoga Meditation Teacher Training –Dharamsala India
During your 200-hour yoga meditation teacher training in Dharamsala, you will learn the fundamentals of intelligent instruction: the cornerstone of a Traditional Hatha Yoga style class. We feel it is a teacher's job, rather than just leading students through a routine, to really teach them something in each class, using instructions to stretch students' thinking and approach to postures and/or the philosophy of yoga. In this way we hope to offer our students a rich, original, multi-layered experience of Yoga & Meditation. Within these guidelines, you will uncover your own unique voice, style, and gifts as a yoga Meditation teacher.
Surya Namaskar – Hatha Yoga
Steps to start your Yoga Meditation Retreat process based on Vedas & Rishis defined ways are given below:
1.The theme of Hatha Yoga – Matsyendranath founded the Nath cult which believed that, before taking to the practices of meditation, you must purify the body and its elements. Therefore, before you try to practice self-discipline and self- control, you must also prepare yourself. If harmony is not created in the personality, then self-control and self –decipline and will create more conflict rather than peace of mind.
2.In the Hatha Yoga Pradipika – Swami Swatmarama begins by saying that you should first purify the whole body – the stomach, intestines, nervous system and other systems. Therefore, shatkarma comes first, I.e – Neti, Dhauti, Basti , kapal bharti , trataka, and nauli.
After satkarma, you should practise start meditation asana and pranayama. Self –control and self – discipline should start with the body. That is much easier.
Asana is – discipline; Pranayama is discipline ; Kumbhaka ( Retention of breath ) is self – control. Sit in padmasana ( lotus posture ) for fifteen minutes. That is self discipline.
Next – the subtle elements ( tattwas ) , the energy channels ( nadis ), within the body should be purified. The behaviour of vital force ( prana), the entire nervous system and the variouls secretions in the body should be properly maintained and harmonized.
3.Meditation Mudra – after this practitioner should go on to practice mudras like – Vajroli , sahajoli, khechari , shambhavi , vipareeta karani and others.
In this way, it will be possible to develop deep meditation. These practices will induce pratyahara and lead into dharna , dhyana and Samadhi.
#Meditation is one of an important aspect of practicing Yoga. Practicing Meditation Techniques together with the asana and pranayama can give the one it a number of different benefits.
#Meditation is the journey towards the self. For that, we have to transcend the body and mind. When we transcend the body and mind, then the cosmic energy flows. Cosmic energy cleanses all illness of the body; thereby we will be healthy without any medicine.
Mantra Yoga & Meditation School brought you an Opportunity to learn 15 Different Meditation Techniques during 25 Days of 200 Hour yoga alliance certified teacher training in Dharamsala. Become a certified Yoga & Meditation teacher. Know more with expert Meditation Teachers.
Why do we Practice Meditation ?
Each one of us is in search of good health, peace, knowledge,
prosperity, harmony and overall happiness and bliss. Each and every
person tries hard to achieve this state. But can it be really
achieved? Yes, this can be achieved. All this is possible by
understanding cosmic energy and self knowledge which can be discovered
by practicing meditation.
Section – "Pre-Training Written Assignment" – Yoga Meditation Teacher Training India.
What is Yoga? Write this in your own words before reading your books.
List any injuries or medical issues you may have.
Please describe your yoga history (how many years have
you've been practicing, with whom, the style of yoga, etc.)
Read more about Training Here: 200 Hour Yoga Meditation Teacher Training Dharamsala
Know more about 3 Days, 5 Days or 12 Days – Yoga Retreat in Dharamsala – Email us mantrayogmeditation@gmail.com
#MantraYogaMeditationSchoolIndia