1. Yoga Teacher Training in Rishikesh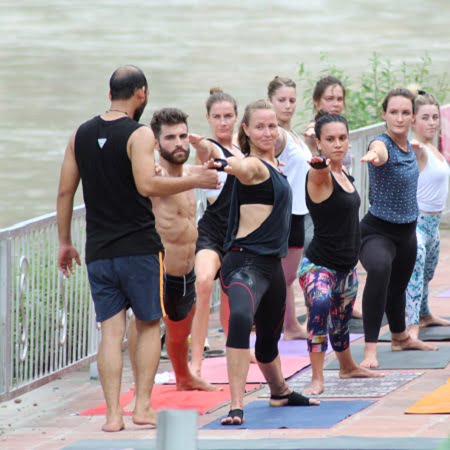 Ashtanga Vinyasa Yoga Teacher Training in Rishikesh – 200 Hour Yoga Teacher Training Course in Rishikesh, India
An Affordable Ashtanga Vinyasa Yoga Teacher Training School in Rishikesh India
Mantra Yoga School- 200 Hour yoga teacher training in Rishikesh is a yoga emersion Beginners & Intermediate level one, 28 Days Ashtanga Yoga, Vinyasa flow yoga (Mysore & led Style) Instructor certification training course.It is a unique mix of multi-style yoga training for global yoga aspirants.Our core purpose is to meet the expectations of Westerners planning to travel to the South Asian country in a quest to learn yoga. (Click here 200 YTT in Rishikesh) to know more about our 200 hour yoga teacher training in Rishikesh
Yoga teacher training Rishikesh India -A blended asana style of Ashtanga yoga Primary Series, interwoven with the modern flow of vinyasa. Other subject offerings include pranayama, mantra, meditation, philosophy, physical and subtle anatomy, Veda lectures and Bhakti, Gyan, nada yoga etc
With our 200-hour yoga teacher training in India – Expand your understanding of asana and beyond, as you build and/or deepen your personal practice, awaken new perspectives and boost your confidence to teach yoga with an international Yoga Alliance RYT 200 certification. Our Vinyasa yoga certified teacher training gives you the tools and knowledge to deepen your personal practice, awaken new inspirations and perspectives, and the confidence to teach yoga with a solid foundation.
We at Mantra Center India & Canada provide various service to the nature of the client.
Wish how would you like to spend time here to experience and explore the field of Indian Vedic wisdom life science
like Yoga, Ayurveda, Pranayama, Reiki, Naturopathy, Panchkarma, Detox, Meditation, Sadhana, spirituality to attune
with a modern concept of Health, Beauty, wellness & fitness.
A valued Yogic Spiritual Culture "Vedic Life Style"
Mantra Yoga & Mediation holistic Center India is a lifestyle brand embracing body, beauty, mind & spirit.At Indian residential ashram, you spend time with your body, mind, and soul together, so that you shall see yourself absorbed and connected towards everything.Compared to the other part of the world," a training in India offers a very different and unique experience anybody who is traveling to India to recognize that India can be a bit of a culture shock as it has many wonders and oddities that westerners may not be used to. India is a beautiful, colorful, vibrant place and every day brings something new and unexpected. At yoga teacher training Rishikesh.There is a certain kind of freedom here that you do not get in the west whereby everyone has a responsibility to themselves and each other.Since we always are followers of ancient rituals and believer of a homemade object or food Our Vedic culture is magical fastener who always ask you to be ready to help others and things seem too often happen in a totally spontaneous and magical way. Here we start our day at 5: Am and end at night 10:30 PM. Goddess & God prayers, chanting and harmony set in our atmosphere so Culturally India is very different and due to this fact that, students from any part of the world come over here to learn the Vedic culture and untraditional mix learning.
Vedic Spiritual Guru Sishya Culture-Loose yourself in ambiance and atmosphere
Our yoga teacher training Rishikesh center has a deep appreciation of Rishikesh as an ideal location for retreat & teacher training and encourages students who would like to explore the benefits of living and breathing in a spiritual community to join us for a future training. Our beginner basic level 1 –certification course. 28 Days residential 200-hour yoga teacher training & 300 Hours Meditation teacher training, tours & retreats are presently conducted in the best touristic locations of foothills of the Himalayas, Pilgrim city of Rishikesh, Dharamshala, Manali, Goa in India & Himalayan village of Pokhara Nepal. We believe that You will experience different customs and contrasting belief systems if you come to India. Things will happen in a way that you may feel is not 'normal' and you will find a quite different mentality, which for many is refreshing & Re-Treating yourself.
Yoga teacher training school Rishikesh, India -This Mecca for yoga aspirants and spiritual seekers makes it easy for students and teachers to be focused and grounded. There are also many wonderful classes, teachers & courses dedicated to self-development for you to participate in. Refer our Yoga teacher training in India, Yoga for Beginner & intermediate teacher training page for course curriculum, dates, and certification program. It isn't just our serene location and experience teachers that set apart our 200 Hour Yoga Teacher Training in Rishikesh and 300 hour Yoga Teacher Training in Dharamsala India programs.