MEDITATION

RETREAT IN RISHIKESH - INDIA.

Take a step back from the hustle and bustle of the modern world, and relax at one of our peaceful yoga and meditation retreats.
Meditation Retreat in Rishikesh India -at Our school is located in the foothills of the Himalayas, often regarded as the birthplace of Eastern knowledge. You will be able to refresh and revive your body and mind, and take active steps towards living a happier and more meaningful life. Whether you are a complete newbie to meditation, or if you are already acquainted with many of the benefits that these practices can bring, you will benefit hugely from the lessons you will learn here, and discover all manner of techniques and knowledge that you can use to make a change for the better. Whether you want to combat stress, work on your health, improve your energy levels, become more focuses, or restore a sense of inner balance, our retreats are just what you need.
Now read at our blog page – How to reach us or Travel to Rishikesh India
–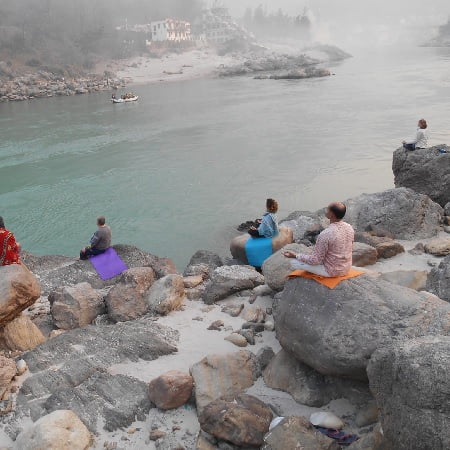 Our retreats will also provide you with a thorough grounding in the philosophy and be thinking surrounding meditation. You'll learn all about the history of meditation, with stories and lessons from many prominent figures in Indian history and philosophy. You can then take these lessons, and apply them to your own life, making positive changes to your lifestyle so you can better meet the challenges you face both at work and at home.
Over the course of this one or two-week retreat, you'll be equipped with all manner of practical tools and knowledge that you need to carry that sense of inner well-being back to your everyday life. What's more, you will also be highly motivated to carry on your yoga and meditation journey even after you leave, to keep learning new things and bringing an even greater balance to your mind and body. The lessons you learn here will, quite simply, last a lifetime.
Venue:Mantra Yoga & Meditation (Yoga & ayurveda center registered with Govt of Garhwal,UK Govt of India.(®)
Location: Rishikesh in the Himalayas (also known as yoga capital of the world)
Duration: 1 ~ 2 weeks
Costs: US$ 500 (1 week) Meditation for Beginners , US$ 900 Retreat (2 weeks)
Optional: New Delhi IGT-3 airport to Rishikesh and Rishikesh to Delhi airport by car for US$ 150 + PayPal booking fees.
Inclusions: Meditation classes, Yoga classes, an Ayurveda massage or River rafting in Summer or Mountain climbing (whenever available), guidance and escort services (if required) for local sightseeing, food & accommodation.
Date & Course Calendar: please email us at namaskar@mantrayogameditation.org and we will advise you the suitable joining as per your requirements.