Yoga

Teacher Training Course & Retreat in India

The best Yoga teacher training in India
Ashtanga Vinyasa Yoga Teacher Training in Rishikesh - 200 Hour Yoga Teacher Training Course in Rishikesh, India ...
YOGA

& MEDITATION RESIDENTIAL COURSES INDIA COVERS

Experience Yoga in its entirety through our Ashtanga Vinyasa Yoga Teacher Training and our Meditation Teacher Trainings.
Beyond the physical aspects of yoga, you will truly learn and live the philosophy, mentality, and spirituality underlying yoga. Become a certified Yoga & Meditation Instructor with Our 200-hour Ashtanga Vinyasa Yoga teacher training and 300 hours Guided meditation teacher training certification course in Rishikesh India.
SHATKARMA – CLEANSING PROCESS
You will learn and practice different yogic techniques to purify your body. You will feel healthier, happier and it will help you to go deeper in some of yoga postures.

PRANAYAMA – BREATHING TECHNIQUES
Exercises and poses to control your breath, which is the source of Prana, our vital life force.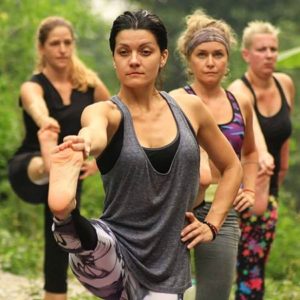 YOGA PRACTICE
You will practice a wide variety of Yoga Asanas, from Ashtanga and Vinyasa yoga, so once you teach yoga you will be able to adapt classes to the needs of individual students.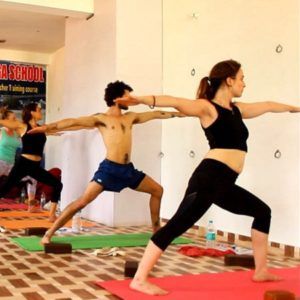 YOGA ALIGNMENT
Alignment matters! You will learn to adjust your postures and correct the alignment of your future students.
YOGA ANATOMY & PHYSIOLOGY
Covering the basics of Anatomy, understanding the principles and how certain yoga postures can help with pain and injures.
PHILOSOPHY
An overview of Indian philosophy, including the historical development of yoga, the vedas and its knowledge.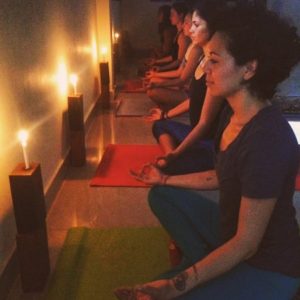 MEDITATION
You will practice different meditation techniques and discover the benefits of meditation to calm your mind and increase your awarness and mindfulness.
MANTRA CHANTING
An opportunity to explore, learn and experience the ancient art of Veda Mantra and the magic of chanting.
RESIDENTIAL

COURSES:

In the following links you will find further information about our Ashtanga Vinyasa Yoga Teacher Training and our Meditation Teacher Training Courses.