BECOME

A YOGA MEDITATION TEACHER IN DHARAMSALA - INDIA

You will be certified as International yoga meditation teacher.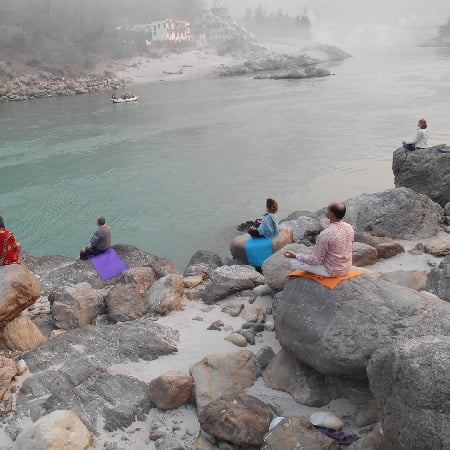 200-Hour Yoga Meditation Teacher Training Certification Course in Dharamsala India
Yoga Meditation teacher training course in Bhagshu, Dharamsala is a unique mix of Yoga & Meditation.Our 200 hour yoga teacher training course is covering Hatha Yoga, Ashtanga Yoga with various Guided meditation techniques.It is an International certification course, is to become a Yoga Alliance USA registered yoga meditation Teacher.Mantra Yoga & Meditation School RYS 200 is offering you the opportunity to become a multi-style yoga meditation teacher guide through our 26-day residential yoga meditation multi-style certification course.
The program is designed to cover Traditional Hatha Yoga, Ashtanga Yoga, Eastern and Western philosophies and various meditation techniques. It is open to all individuals – beginners to advanced practitioners. It is highly recommended training course for Yoga teachers, Massage therapist, Healers, Reiki practitioners and people who wish to serve wellness community under wellness career. As part of the curriculum, you will cover approximately 65 Basic to Intermediate Yogic Asana and 10 to 15 global guided meditation techniques.
200-Hour

Yoga Meditation Teacher Training Course Program

25 days of intense Yoga Meditation training to become a confident teacher.
Meditation Techniques Training Course in India – 200 Hour yoga meditation certification course Dharamsala covering:
65 Basic Yogic Asana -Traditional Hatha yoga & Ashtanga yoga.
Eight limbs of yoga and Indian Vedic yoga Ayurveda system
Mudra
Mindfulness meditation
Vedic Japa meditation
Demo session of Transcendental meditation
Anapanasatiyog Buddhist meditation techniques
Vipassana meditation
Kundalini meditation
Raj yog meditation
Chakra meditation
Third eye meditation
Mantra meditation
Visualization meditation and many more!
–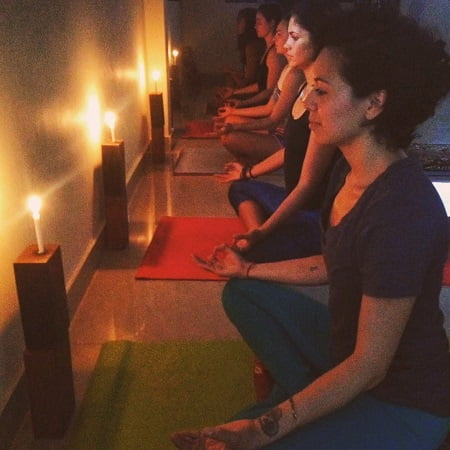 200 Hour Yoga & Meditation Teacher Training Syllabus Outline – India
Our 200-hour yoga and meditation teacher training syllabus weave together ancient Vedic mantra chanting, sadhana, self-realization, the path of Individuality to Divinity and yogic knowledge of Hatha Yoga, Raja Yoga with the modern practices of Nada yoga sound science and teaching methodology so that after their yoga meditation teacher training completion. Our students can be confident in their knowledge and abilities to ready to teach the meditation techniques to the Beginner aspirants.
If you are a Yoga & Meditation Beginners and looking to deepen yourself practice or wishes to become a Beginners Yoga & Meditation Teacher. Our 25 Days yoga & Meditation training is the right match. The course concludes ( Basic Yoga asana, Hatha & Raja Yoga. Kriya, Pranayama and meditation techniques).
People over 20 Years up to 70 Years.
If you do not want to be yoga asana teacher but more focused to be a healer or Meditation technique teacher.
If you believe is that meditation is your path and you are open to self -realization journey ceasing your sensual pleasure over worldly objects.
What will you gain out of 200-hour yoga meditation teacher training in India?
you'll discover how a shift away from the metaphor of 'meditation as practice' to something far more powerful can help avoid common meditation pitfalls and lead to an experience of deep attentiveness, awareness, receptivity, and openness.
Awakening Spontaneous Creativity, you'll discover why untapped creativity is so important, the difference between spontaneous insight and understanding, and how meditation can take us beyond the story, into pure imagination, creative potential, and the increased ability to imagine new possibilities to become a guide ,teachers and be connected with the wellness world which are so needed for the world today.
what meditation allows—beyond inner freedom—the roles the mind and self-play in our created experience of reality, as well as the bigger, inspiring culturally transformative context for meditating. The essence of Yoga, Gist of Vedas and practices of Lambika Yoga, Japa yoga, Aspasrsh yoga with divinity.
Course Fee:
–$1500 per Month
25 Days- 200 Hour YMTT
24 Nights – Accommodation.
3 Meals Per Day. (Vegetarian ).
No Meals on Saturday & Sunday.
The retreat doesn't provide any towels, clothes or toiletries like
soap,shampoo,toilet papers, cloth & Mat cleaning detergent etc.
To the students. You can bring along or buy from the local market
The course includes:
200-hour yoga meditation certification course in Dharamsala.
Fully furnished private room with private bathroom and shower.
3 yummy vegetarian meals per day.
Meditation equipment: pillows, chairs, cushions, book, and videos to borrow.
Yoga Mat and other equipment to practice Yoga.
Daily walks and Sunday excursions.
Common spaces as dining room, living room and garden.
Wi-Fi internet access
Ayurveda Treaments
The Yoga retreat center in Rishikesh provides a variety of spa treatments available at additional cost. The treatments include therapeutic massage, energizing aromatherapy treatment, cleansing body wrap with sea salt scrub, and invigorating facial.
Mantra's Ayurveda Center is not established in Dharamsala
YOGA

MEDITATION TEACHER TRAINING DATES & FEES IN DHARAMSALA

While Rishikesh is our primary school but we other courses and services and in other locations.
200 Hour Yoga Meditation TTC
Yoga & Guided Meditation Certification Training Dharamsala
02nd April to 26th April -2018
02nd May to 26th May -2018
02nd June to 26th June -2018
02nd July to 26th July -2018
02nd August to 26th August -2018
02nd September to 26th September-2018
Meditation Courses & Retreats in Rishikesh
15 Day Yoga Meditation Retreat – Learn more
100 Hour (10 Days) Meditation Certification Training – Learn more
7 Days Meditation for Beginners – Learn more
Courses & Retreats in India
We run courses and retreats in Dharamsala, Phokara, Manali and Goa. If interested, please contact us by email at namaskar@mantrayogameditation.org
Courses and Ayurvedic Treatments in Kelowna, Canada
We offer meditation courses and healing therapies in Kelowna Canada. For more information, click here or email us at namaskar@mantrayogameditation.org
CONTACT

US

We will be happy to solve any issues and questions you may have.
Get in touch with us:
namaskar@mantrayogameditation.org
mantrayogmeditation@gmail.com
+91 9958672399
+91-9599829506
Village Ghugtayni Road, Upper Tapovan,
Rishikesh, Uttrakhand 249192 India.
C/o- 9 Chimes,Upper Bhagsu,
Dharamsala,India.
–
200 Hour Yoga Meditation Teacher Training Course Dharamsala – Additional Information:
As part of the Program, you will practice almost 8 hours of each day except Saturday or Sunday.A day starts with a walk to mountain landscape continue to basic to Intermediate level Pranayama and Shatkarma practice. You will not only learn how to practice basics of meditation and teach but also will be learning to use various props including Mala, Mantra chanting, Meditation pillows, meditation chairs, and meditation cushions. Meditation videos will also be made available if requested. Included are your certification, accommodation, outings, meals, and hospitality. Two weeks you will be taken on an excursion to explore the beautiful Buddhism community and the World famous Triund trekking, Dharamsala.If you are participating in our Rishikesh yoga teacher training then Depending upon the season your excursions could include: white water rafting, Aarti at the Ganga River, exploring Kunjapuri Temple at sunrise, Vishistha Gufa -Caves, or Neer waterfall.