MEDITATION

TEACHER TRAINING RISHIKESH INDIA - MANTRA YOGA & MEDITATION SCHOOL

Become an Internationally certified Yoga & Meditation teacher with our Dual certification program in India
200-Hour Meditation Teacher Training Rishikesh -A Yoga Meditation Certification Course India
Yoga Meditation Teacher Training Course in Rishikesh India at Mantra Yoga & Meditation School is an RYS 200 Yoga Alliance, USA and Govt of India registered Yoga meditation teacher training school offering you a 200 Hour Yoga Meditation teacher training in Rishikesh India. It is an Internationally approved training with a dual certification program for them who wish to become a certified Yoga and Meditation Teacher.
The program is designed to cover Traditional Hatha Yoga, Ashtanga Yoga, Eastern and Western philosophies and various meditation techniques. It is open to all individuals
28 Days Yoga Meditation Teacher Training Rishikesh
Mostly Suitable to Yoga and Meditation for Beginners aspirants.
Age group 20+ to 70 Years. (Note: Do not apply if just Interested in learning Physical Postures).
Learn to live life with Patanjali Ashtanga yoga theory, Raja Yoga and Mysore led style Asana Practices.
Traditional Hatha Yoga and Vinyasa flow Asana practices. Around 50 Basic to Intermediate Yogic Asana.
Preparation of Body to practice with Kriyas and Pranayama.
15 Different Global Guided Meditation techniques. –Designed based on eastern Raja Yoga and International meditation practices.
Learn Spiritual awakening with various practices like Mantra chanting and meditative wisdom. Living life fully distressful, calm and full control of Anger Management.
Experience the beauty of a Spiritual city with Ganga Aarti, Temple, and Cave visit.
The course fee includes board and lodging, Satvic meals and your full training curriculum and materials.
Only serious seekers are invited to join the course.
200-Hour

Yoga Meditation Teacher Training Course Rishikesh

28 days of intense Yoga Meditation training to become a confident teacher.
Meditation Techniques Training Course India – 200 Hour yoga meditation certification course Rishikesh covering:
Meditation Teacher Training Course India – Area of expected learning – Meditation
As part of the curriculum, you will cover approximately 15 global meditation techniques
Eight hours a Day of class-based Practice.
50 Basic Yogic Asana -Traditional Hatha yoga & Ashtanga yoga.
Eight limbs of yoga and Indian Vedic yoga Ayurveda system
Mudra
Mindfulness meditation
Vedic Japa meditation
Demo session of Transcendental meditation
Anapanasatiyog Buddhist meditation techniques
Vipassana meditation
Kundalini meditation
Raj yog meditation
Chakra meditation
Third eye meditation
Mantra meditation
Samatha meditation
Love & Kindness
Sufism dancing meditation
Visualization meditation and many more!
–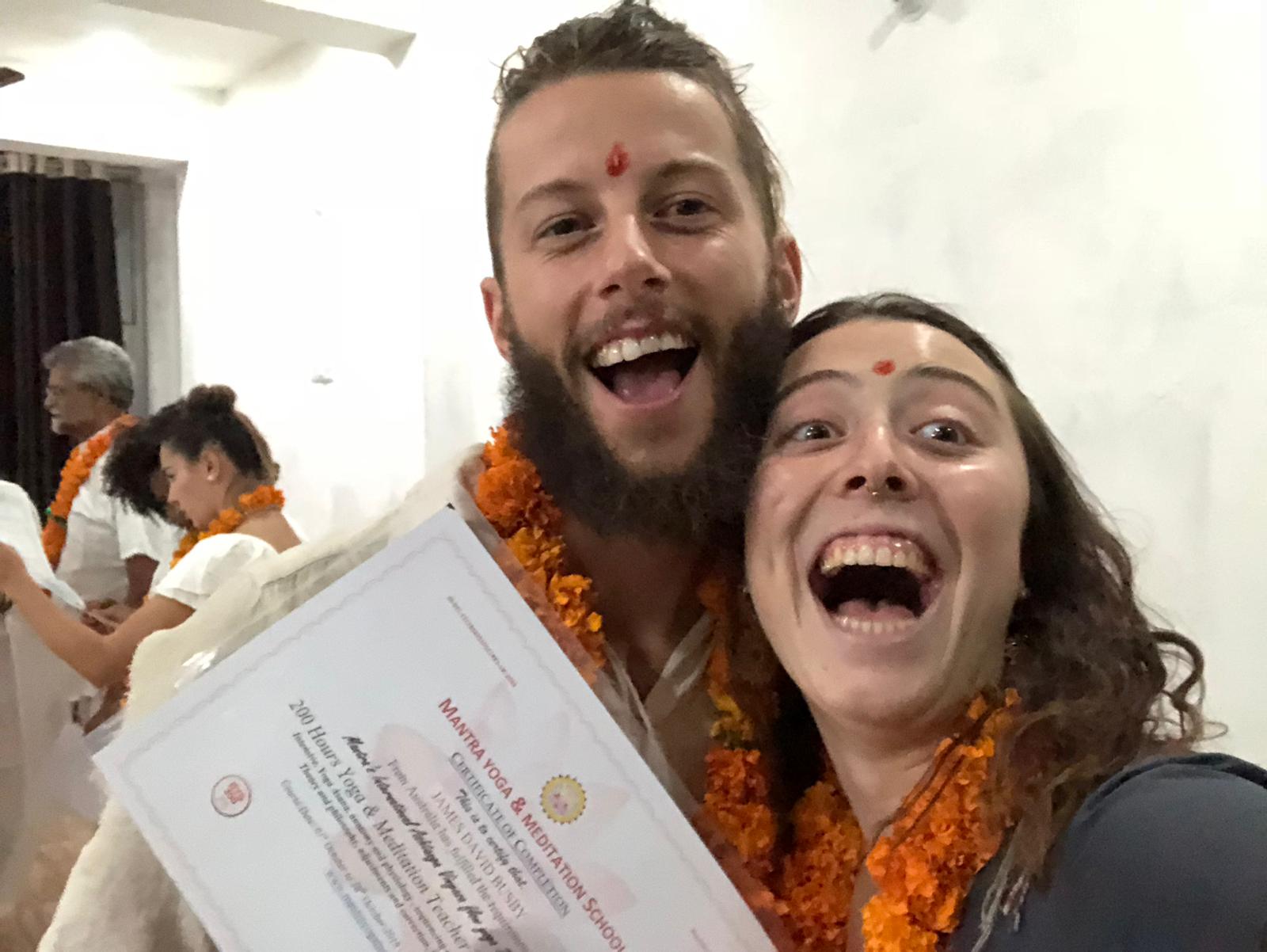 Yoga & Meditation Teacher Training Rishikesh
200 Hour Yoga & Meditation Teacher Training in Rishikesh | Dates for 2019-2020
We run 28 Days Yoga & Meditation teacher training in Rishikesh around the year. Our 200-hour yoga & Meditation course is Yoga Alliance certified, RYS 200, Ashtanga Vinyasa Yoga & Meditation School program in India
Mantra Yoga & Meditation School Rishikesh India
200 Hour -Yoga & Meditation Teacher Training Rishikesh Course Fee -2019-2020

01st to 28th of Each Month – January to December-2019-2020

Early Bird and Last Minutes offer and Discounts
Months
Course Fees-2019

1500

2 Months Advance

1400

4 Months Advance

1300

More than 5 Months Advance Booking

$1200
200 Hour Yoga Teacher Training Syllabus Outline – Rishikesh India
TOPICS & DETAILS YOGA SECTION –
200 Hour Yoga Teacher Training Rishikesh ( A Combined Meditation & Yoga Course)
syllabus weave together ancient Vedic mantra chanting, sadhana, self-realization, the path of Individuality to Divinity and yogic knowledge of Hatha Yoga. Our training also includes Raja Yoga with the modern practices of Nada yoga sound science and teaching methodology. Our students can be confident in their knowledge and abilities to be ready to teach the meditation techniques to Beginner aspirants.
Asana
Learn and practice techniques of Vinyasa flow & Ashtanga yoga asana and body alignment.
Pranayama – Breath Techniques.
Basic understanding of Pranayama and its principle of related to Meditation practices.8 Different Pranayama Theory and Practices.
Learn about Kriyas and practice techniques of the four Shatkarma (body cleansing techniques ).
Meditation
Daily practice & learning of Concentration & Dhyana ( Meditation). Learn different techniques and tools of meditation to ground and focus the mind. ( Meditation Presentation Class is Mandatory to Qualify for Certification).
Anatomy & Physiology
Gain more understanding of your own body with basic knowledge of Physiology and Anatomy. You will be taken through 4 to 5 body systems. In the yogic Anatomy section, you will be guided through the physical body, subtle body and emotional body. Chakras, Nadis, and Bandhas will be covered in this section.
Yoga Philosophy
This section covers the history and philosophy of Yoga, Tantra Philosophy, the 8 Limbs of Yoga – Patanjali Yoga Sutras, Raja Yoga, the yogic explanation of traditional texts as well as yogic discipline & Indian Vedic culture.
Adjustment & Alignment
Alignment and adjustment of yoga poses will be covered to demonstrate the optimal correct postures and the usage of props. Limitations, restrictions, optional poses, and connected yoga poses will be taught to meet different students body needs.
Teaching Methodology
Gain teaching skills and learn how to teach in a small group class. This will bring about a broad understanding of teaching skills and the creativity of series and classes. Learn optimal sequencing and how to create your own flow class.
200 Hour Yoga Teacher Training in Rishikesh- Sample of Daily Schedule -2019-2020
Weekdays Schedule (Monday to Saturday) - Sunday is Free Day
| | |
| --- | --- |
| Daily Schedule – Sample (Time) | Activity |
| 05:00 AM | Wake Up |
| 05:30 to 05:50 AM | Tea Time – Warm Water or Herbal Tea |
| 06:00 to 08:30 AM | Yoga Asana , Shatkriya Practice & Pranayama |
| 08:45 to 09:20 AM | Breakfast (Monday to Sunday) |
| 10:00 to 11:00 AM | Indian Yoga & Meditation Philosophy (Vedic and Traditional) |
| 11:15 to 12:00 PM | Mantra Chanting / Meditation Practical or Satsang |
| 12:30 to 01:00 PM | Lunch ( Monday to Sunday) |
| 01:30 to 15:00 PM | Free Time |
| 15:15 to 16:15 PM | Anatomy & Physiology |
| 16:30 to 17:55 PM | Ashtanga Yoga Class |
| 18:00 to 19:00 PM | Meditation Practice. |
| 19:15 Onwards | Dinner – Monday to Saturday Only. |
Meditation Teacher Training Rishikesh Program – An Opportunity to learn the Royal Path of Freedom.
Syllabus – 200 Hour Meditation Teacher Training India (MEDITATION SECTION)
Our 200 Hour Meditation teacher training is a combine Yoga and Meditation teacher training course at Rishikesh India. The course is crafted for International Yoga Holidays visitors to Rishikesh. It is one of the Highly recommended International certification training for yoga teachers wants to teach various meditation techniques to their students, Reiki Practitioners, Healers, and Massage therapist looking for offering higher consciousness training and calmness, anxiety and distress-free living learning to their customers, pupils and Retreat joinee.
The meditation teacher training India course is designed based on the wider framework of Raja Yoga(including Patanjali Ashtanga yoga) is the science of the mind. Instead of exploring the outer world like other sciences, Raja yoga is concerned with exploring the inner world and unleashing the power and knowledge contained within. It is the science of mental discipline and includes various methods of making the mind one-pointed.
According to Mantra Yoga & Meditation course curriculum, you will learn experience and explore the Vedic wisdom of Raja Yoga includes the following systems:
*Kundalini yoga (About Kundalini Shakti awakening and Chakra)
*Mantra Yoga – Also known as Japa Yoga.
*Kriya Yoga – Purification of mind, self-study and practices and connecting to Divine.
*Dhyana Yoga and Specifically, Patanjali yoga is that system which consists of eight stages: Yama, Niyama, Asana, Pranayama, Pratyahara, Dharana, Dhyana, and Samadhi. The yoga of eight stages widely called Ashtanga Yoga.
What will you gain out of 200-hour yoga meditation teacher training in India?
you'll discover how a shift away from the metaphor of 'meditation as practice' to something far more powerful can help avoid common meditation pitfalls and lead to an experience of deep attentiveness, awareness, receptivity, and openness.
Awakening Spontaneous Creativity, you'll discover why untapped creativity is so important. The difference between spontaneous insight, understanding, and how meditation can take us beyond the story into pure imagination. It will awaken creative potential, and the increased ability to imagine new possibilities to become a guide, teacher and be connected with the wellness world which is so needed for the world today.
what meditation allows—beyond inner freedom—the roles the mind and self-play in our created experience of reality, as well as the bigger, inspiring culturally transformative context for meditating. The essence of Yoga, Gist of Vedas and practices of Lambika Yoga, Japa yoga, Aspasrsh yoga with divinity.
Course Fee:
–$1300 per Month |EB Up to 3 Months Adv.
28 Days- 200 Hour YMTT
27 Nights – Accommodation.
3 Meals Per Day. (Vegetarian ).
No Meals on Sunday.
The retreat doesn't provide any towels, clothes or toiletries like Soaps, Shampoo, liquid, detergent, Toilet-Paper, cloth & Mat cleaning sprays water bottles etc.
To the students. You can bring along or buy from the local market- 5 Minutes walking distance.
The course includes:
200-hour yoga meditation certification course in Rishikesh.
Fully furnished private room with private bathroom and shower.
3 yummy vegetarian meals per day.
Meditation equipment: pillows, chairs, cushions, book, and videos to borrow.
Yoga Mat and other equipment to practice Yoga.
Daily walks and Sunday excursions.
Common spaces as dining room, living room and garden.
Wi-Fi internet access
Ayurveda Treaments
The meditation teacher training and retreat center in Rishikesh provides a variety of spa treatments available at additional cost. The treatments include therapeutic massage, energizing aromatherapy treatment, cleansing body wrap with sea salt scrub, and invigorating facial.
Mantra's Ayurveda Center is established in association with RVYS.
YOGA

MEDITATION TEACHER TRAINING DATES & FEES IN RISHIKESH

While Rishikesh is our primary school but we other courses and services and in other locations.
200 Hour Yoga Meditation TTC
Yoga & Guided Meditation Certification Training Rishikesh
Join for 2019 @ $1300.
01st January to 28th January-2019
01st February to 27th February -2019
01st March to 28th March-2019
01st April to 28th April -2019
01st May to 28th May -2019
01st June to 28th June-2019
01st July to 28th July -2019
01st August to 28th August-2019
01st September to 28th September-2019
01st October to 28th October-2019
01st November to 28th November -2019
01st December to 28th December-2019
Meditation Courses & Retreats in Rishikesh
HighlightsJoin 2 weekly Trips to local sites1 Ayurveda MassageBeginner level of pranayama and shatkarma practicesVarious topics such as Mudra, Mindfulness, Vedic Japa and more27 Nights accommodation – Single Private Room (Ashram Stay).Wi-Fi accessible – RoomsInternational Dual Certification is includedDaily meals except for Sunday -3 Vegetarian Meals & Filtered Water and Herbal Tea.Accommodation – Check-In: 1 Day in advance arrival accepted. (Only acceptable Prior to the course commencing). Check In – 08:00 AM to 11:00 PM | Check Out – Last date of course. 11:00 AM.
Skill level –BeginnerIntermediateRequirementsIf you have a desire to further your yogic knowledge and practice, then you can join this course.Language Spoken – EnglishGroup Strength – The Maximum Number of Participants in the Group – Up to 20.
Courses & Retreats in India
We run courses and retreats in Dharamsala, Phokara, Manali, and Goa. If interested, please contact us by email at namaskar @ mantrayogameditation.org
CONTACT

US

We will be happy to solve any issues and questions you may have.
Get in touch with us:
namaskar@mantrayogameditation.org
mantrayogmeditation@gmail.com
+91 9958672399
+91-9599829506
Village Ghugtayni Road, Upper Tapovan,
Rishikesh, Uttrakhand 249192 India.
C/o- 9 Chimes,Upper Bhagsu,
Dharamsala,India.
–
200 Hour Meditation Teacher Training Course Rishikesh – Additional Information:
International & Domestic Airport – Travel & Tour Assistance –
In general, the school recommends flying into the airport in New Delhi, as it is the nearest international airport to Rishikesh. You can also fly into Dehradun (Jolly Grant Airport), a domestic airport that is much closer to Rishikesh (although it is generally much more expensive to fly there.) The school can provide a private taxi from the Delhi or Dehradun airport to Rishikesh on additional Cost. if you get in touch prior to arrival.
Visa Information: If You are applying for Visa to travel to India, as per the local FRRO directive, we advised to apply for E-Tourist visa only. People on 6 Month or 3 Months Visa or No other type of visa is applicable. And if you are applying for ( Visa on Arrival – Etourist Visa ) then refer this link – https://indianvisaonline.gov.in/visa/tvoa.html
For any questions related to Travel to Rishikesh – Email us your questions.
Why choose Rishikesh for our 200 hour yoga & Meditation teacher training?
Rishikesh – where the exquisite setting on the fast-flowing Ganges, surrounded by forested hills, is conducive to meditation and mind expansion. Wandering around the historical town you are bound to encounter many temples, ashrams and spiritual people and ceremonies. Considered a top yoga teacher training in India, the yoga course offers a complete residential yogic environment within a small focused group to ensure maximum attention and learning in a safe and supportive space.
Local Sightseeing Included – Every week, you will be taken on an excursion to explore the beautiful community and "yoga capital of the world", Rishikesh. Depending upon the season your excursions could include white water rafting, Aarti at the Ganga River, exploring Kunjapuri Temple at sunrise, Vishistha Gufa Caves, or Neer Waterfall.
Terms & Conditions :Cancellation & Refund Policy
*A reservation requires a 25 % Non-Refundable advance deposit to confirm your seat.
The deposit is non-refundable if the booking is cancelled for any reason.
*Seat booking is first to come first serve basis.
*It is a Non-Transferable course to others. An advanced 30 Days Notice is required to change the month, depends on availability. After arrival and Joining – Total course fee is Non-Refundable.
The rest of the payment should be paid on arrival. (For more Information – Read application response on cancellation, Terms, and Conditions).
*The balance fee is strictly non-refundable, non-cancellable -No Shows and any other unavoidable circumstances.
*The balance fee must be paid upon arrival in CASH in INR or any International currency. (USD, EURO, POUNDs).
Please email us for any clarification on housing, food, laundry or additional travel support. – mantrayogmeditation @ gmail.com