200

HOUR YOGA TEACHER TRAINING IN RISHIKESH - INDIA

You will be certified as International yoga teacher recognized by the Yoga Alliance.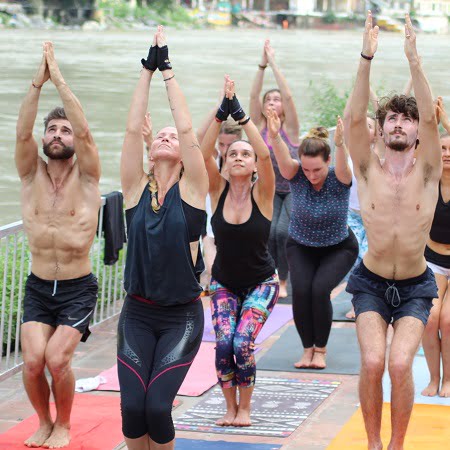 200 Hour yoga teacher training in Rishikesh, India.
is a Beginner level 1, an inexpensive international certification course, 28 Days residential course. It is a multi-style Ashtanga Primary series and Vinyasa yoga teacher training program. Our primary Yoga and Meditation teacher training school is situated in the beautiful foothills of the Tapovan ,laxman jhoola area, and is completely surrounded by breathtaking mountains. The environment is luch and green, and there is a small waterfall nearby, too. You'll wake up to the sounds of nature, with birds calling you to start your day of yoga and meditation. The school is just a short walking distance away from Laxman Jhoola, and the banks of the "Mother River" Ganges. Away from the hustle and bustle of the city, and nestled in the greenery and silence of nature, you will be able to gain a deeper understanding of your own inner self, and take positive steps forward on your spiritual journey.
200

Hour Yoga Teacher Training Course India

A 4 weeks of intensive course to strengthen your yoga practice.
Our holistic and high professional approach to yoga will grow your confidence as practitioner and teacher.
Study of Asana (alignment and variations, modifications for all practitioner levels).
Art of sequencing and improvisation in the class.
Observation with specific angles related to a posture.
Intelligent use of props to help improve practice at its early stages.
Cultivation of Command through voice modulations.
Postures with their Sanskrit Names and terminology.
Confidence-building through practice teaching.
Principles of anatomy-physiology & psychology with Yogic Science.
Yoga Philosophy, Ideas and Hypothesis.
Spirituality and ethics with Business of Yoga.
The course includes:
200-hour certification course
Yoga Mat and Course manuals
Ropes, bands and bricks to practice Yoga
Fully furnished private room with private bathroom and shower.
3 yummy vegetarian meals per day
Sunday excursions
Common spaces as dining room, living room and garden
Wi-Fi internet access
200 YTTC Daily Schedule:
05:30 am – Wake Up
06:00 am – Herbal Tea
06:30 am – Shatkarma/Pranayama
07:00 am – Vinyasa Flow Yoga Practice
08:30 am – Breakfast
09:30 am – Yoga Anatomy
11:00 am – Yoga Philosophy
12:00 pm – Lunch + Break
03:00 pm – Yoga Body Alignment
04:00 pm – Ashtanga Vinyasa Yoga Practice
06:00 pm – Meditation & Mantra Chanting
07:00 pm – Dinner
WHY

MANTRA YOGA MEDITATION SCHOOL?

Life-changing experience - 100% Satisfaction Guarantee.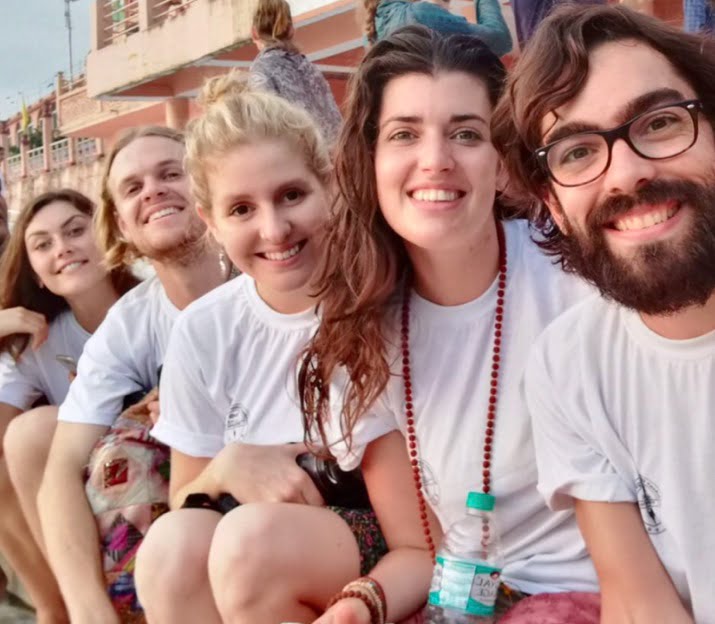 We are proudly hosting the happiest students of Rishikesh!
Or at least this is what they tell us. These are some of the reasons:
Small class sizes
Highly experienced teachers
A strong support network
Dedicated to your success
Established and successful
Its stunning location and venue
Learn more about the school in our About Page.
You can also read the reviews of some of our students Course Reviews Page.
200

HOUR YOGA TEACHER TRAINING IN RISHIKESH - DATES & APPLICATION

Book a course place or reach us for further information.
200 Hour Yoga TTTC
Ashtanga Vinyasa Yoga Training Rishikesh
01st January to 28th January -2018
01st February to 27th February -2018
01st March to 28th March -2018
01st April to 28th April -2018
01st May to 28th May -2018
01st June to 28th June-2018
200 Hour Yoga Teacher Training Venue:
Our beautiful Yoga school for the 200 Hour Yoga Teacher Training in Rishikesh, India located in in the beautiful foothills of the Tapovan area, surrounded by mountains, a short walking distance away from Laxman Jhoola, and the banks of the "Mother River" Ganges. Learn more about the venue by clicking here.
–
Get in touch

with us
Set the foundation for your spiritual yogic health & wellness Journey with a Free consultation with our Yoga & meditation training expert.We are here to help you get started and want to see you succeed with your choice of 200-hour yoga for Beginner & Intermediate teacher training, yoga vacation retreat
namaskar@mantrayogameditation.org
mantrayogmeditation@gmail.com
+ 1 7785817945
+91-9958672399
Village Ghugtayni Road, Upper Tapovan,
Rishikesh, Uttrakhand 249192 India.
Mantra

Yoga & Meditation RYS 200 Hour School – Syllabus

The course includes all you need to learn to teach Vinyasa Yoga & the primary series of Ashtanga Yoga.
–
SHATKARMA – CLEANSING PROCESS
Cleansing techniques to make the body clean, strong, free of diseases.
Jal Neti : – Water Nasal Cleansing Process – 1st Weekdays
Shankha Prakaschalan – Cleansing process of Intestine – 1st Saturday
Sutra Neti :- Rubber Nasal Cleansing Process – 2nd Weekdays
Kunjal – Cleansing process of Throat & Mucus – 2nd Saturday
Kapalbhati: – A breathing technique for purifying the frontal region of the brain.(Everyday).
Mantra Chanting : Covering 5 Mantra's.
–
PRANAYAMA – BREATHING TECHNIQUES
Breathing techniques to increase our energy, release stress, improve our mental clarity, and improve our physical health.
Bhastrika:- Bellows Breath
Surya Bhedi :- Vitality Stimulating Breath
Nadi Shodhan :- Psychic Network Purification
Bhramari :- Humming Bee Breath
Ujjayi :- Yogic/Victorious Breath
Sheetali :- Cooling Breath
–
YOGA ANATOMY & PHYSIOLOGY
A better understanding of the anatomy of the body will help you to practice and teach yoga in a safe way, to fine-tune your alignment and deepen your postures.
Respiratory System
The Breath Connection: Pranayama
Skeletal System and Movement
Muscular System: Physiology and Actions of Muscles
Muscles of the Pelvic Girdle & Thigh
Muscles of the Trunk
Shoulder Girdle & Upper Arms
Digestive System and Ayurveda
Cardiovascular System
Anatomy & Physiology of Inversions
Endocrine System vs Nervous System
Bandhas & Chakras
–
YOGA PHILOSOPHY
Understanding the origins of Yoga, the fundamental ideas on which Yoga practice is based and the ways in which it has developed during the ensuing millennia. We will also help you to navigate through the Ancient Vedas.
The Four Vedas: (1) Rig-Veda (2) Yajur-veda (3) Sama-veda (4) Atharva-veda
The Six Darshan Shastras (Schools of Philosophy)
(1) Poorv Mimansa by Sage Jaimini
(2) Nyay by Sage Gautam
(3) Vaisheshik by Sage Kanad
(4) Sankhya by Bhagwan Kapil
(5) Yog by Sage Patanjali
(6) Uttar Mimansa (Brahm Sutra) by Bhagwan Ved Vyas.
All the six Darshan Shastras are in sutra form.
Patanjali Yoga Sutra :- Details about Eight Limbs of Yoga (Astanga Yog)
Bhagwat Geeta :- Glimpse of Coverage
(1) Gyan Yog – yoga of Knowledge
(2) Bhakti Yog – yoga of Devotion
(3) Karma Yog – yoga of Action
Hatha (Vinyasa Yoga) :- Covering – (1) Asan – Postures (2) Pranayama – Nadis, Pranic Body
(3) Bandhas – Psychic Locks (4) Mudras – Gestures (5) Chakras – Psychic Philosophy of Yoga.
–
MEDITATION & MANTRA CHANTING
You will practice different meditation techniques along the 4 weeks of the 200 Hour Teacher Training Course. These are some of the techniques we teach at Mantra Yoga Meditation School: Mudra, Mindfulness meditation, Vedic Japa meditation,Demo session of Transcendental meditation, Anapanasatiyog Buddhist meditation techniques , Vipassana meditation, Kundalini Meditation, Raj yog meditation, Chakra Meditation, Third eye meditation, Mantra meditation, Visualization meditation and many more.
You will also have the opportunity to explore, learn and experience the ancient art of Veda Mantra and the magic of chanting.